Operation Smile Inc
Operation Smile was founded in 1982 by Dr. William P. Magee Jr., a plastic surgeon, and his wife, Kathleen S. Magee, a nurse and clinical social worker.
Operation Smile was launched in 1982 and currently supports international and local, in-country medical projects to 40 countries and 60 foundations.
It performs the following activities:
Repair of Cleft lip and palate
Correction of post burn deformities
Provision of free dental and paediatric treatment to thousands of patients
Running of courses for nurses, doctors and allied health professionals (ATLS, PALS, ACLS, Burns etc)
Building medical centres and hospitals in identified countries so as to augment the local health system
Involvement with Operation Smile
Volunteer (2006 - )
Regional Medical Officer (2008-2010) (Africa/Middle East/Europe)

Deputy Chief Medical Officer & Director for Quality Assurance (2010-2015)

I have been active as a volunteer since 2006. I was invited to be the Regional Medical Officer in charge of the Central Region (Europe/The Middle East and Africa) supervising missions, volunteers, governance, team compositions and audits in 2008 . During this time I also went on missions as the Field Medical Director or the Team Leader in Surgery, offering both Leadership as well as surgical operative expertise. I have been involved in the treatment of cleft lip and palate, burns and congenital hand surgery patients. I have devised a burns resuscitation course for the developing world, which I have taught in four countries.
In September 2010 I was appointed to the post of Deputy Chief Medical Officer with the specific responsibility as Director of Quality Assurance and Governance for the organization. I currently provide for Governance and oversee Quality Assurance for 176 annual missions as well as thirteen centres affiliated and run by this charity.

I have been on 42 missions to the following countries with Operation Smile:
Kenya Jordan Morocco

India Egypt Congo

Russia Bolivia Ethiopia

Thailand Cambodia Philipines

Uzbekistan Malawi Ghana

Honduras Myanmar Indonesia

Vietnam Bolivia Ecuador

Guatemala Hondura Mozambique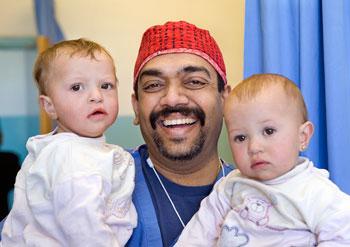 Operation Smile Surgical Team Leader, Ankur Pandya with his patients during an Operation Smile mission at a Jordanian Hospital in Amman, Jordan.
Swinfen Charitable Trust
Volunteer Consultant
Volunteer consultant for this trust, which was set up in 1998, with the aim of assisting poor, sick and disabled people in the developing world. This is done by establishing telemedicine links between hospitals in the developing world and specialists who give expert advice by telecommunications means.